Google has published the updated figures of the fragmentation of different versions of Android operating system. This data comes only a day after they announced that the next Android version (Android 4.4) will be called "KitKat".
Although the figures undoubtedly look better than last time, it is difficult to not notice that the versions before Froyo (Eclair, Donut and Cupcake) have been left out. Google, However, reasons that the latest Play Store app is only compatible with Android 2.2 and higher. They say their data in August 2013 reflected as versions older than Android 2.2 accounted for less than 1 percent of the devices that checked into Google Servers.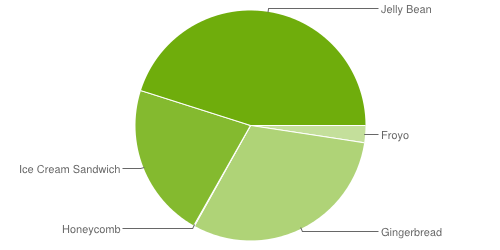 So the way it stands right now, starting from the latest version, Jelly Bean accounts for 45.1 percent, Ice Cream Sandwich at 21.7 percent, Honeycomb at a meager 0.1 percent, Gingerbread at 30.7 percent and Froyo at 2.4 percent. Chances are, once KitKat becomes available (maybe even before that), we won't see Honeycomb in their next update, as Google won't show any version which accounts for less than 0.1 percent in the data.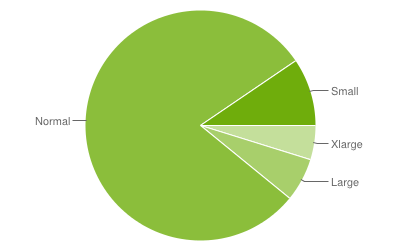 As for the fragmentation as per the screen sizes, 9.5 percent devices are "Small" screen, which according to Google is roughly between 2" – 3" inch screen, an understandably staggering 79.6 percent devices are "Normal" sized, which is about 3" – 5" inch screens, 6.1 percent devices are "Large" sized, which is about 5" – 7" inch screens, and the XLarge sized screens are 7" inches and above account for only 4.8 percent.
Comparing to the previous numbers and the data fragmentation, the newly updated data definitely looks a bit defragmented. The adoption rate for their latest Android versions after their launch is never encouraging, unlike Apple's whose iOS 5 and 6's adoption rates were record breaking, but then again, there are very limited number of iOS devices when compared to Android.
Google has not disclosed any other specific details on KitKat, other than its name. Only time will tell if KitKat, whenever it releases, is able to break its predecessor's record in terms of user adoption. You will find their official blog and report here.