Having a website of your own used to be a luxury in the yesteryear's, specifically in the early 2000's, the period right after dot-com bubble where the internet caught the attention of the millions of unawares around the world giving a new perspective to the already rising Information technology sector. The Internet as we know today was so different back then that it may well be unrecognizable in next few years (Although some may argue that it already is, and rightly so).
In the heart of it lying Websites which changed the meaning of brand visibility and connecting with people, across all the industry sectors over the world. See the difference of how a website has evolved over the years. Here is a screenshot of Microsoft website back in 1994 and the latest one.
Internet wasn't as prevalent and neither did it have the kind of reach as it does today. Limited knowledge and limited resources (including the Internet connection itself) were one of the key reasons many individuals and companies alike didn't have their own website which could help expand their business or connect to more people. Fortunately, we have all the resources in our hands today, quite literally speaking. The cell phones and tablets today have internet speed faster than a computer had in the previous decade (the dot com bubble period of-course). There is absolutely nothing stopping you today if you plan to make your own website. However, going about purchasing your domain name and hosting or hiring people to make a website for you without a clear objective, you would be wasting a lot of money and time. There are numerous services out there today who will help you create your own website for Free or for an amount as low as $4 per month for some premium features.
With the website builder, it is really easy to set up your first website. More importantly, it is okay to make mistakes as you can easily start over or customize it as per new requirements. Once you feel confident handling it, you can simply export the data to your own personal domain. We created this list so you don't have to google or bing "How to create a website for free" and skip the painful process of going through dozens of links. To help you get started with your first website, we have compiled a list of 11 website builder's in total, who offer website building and hosting services. There are 8 Free website builders and 3 paid.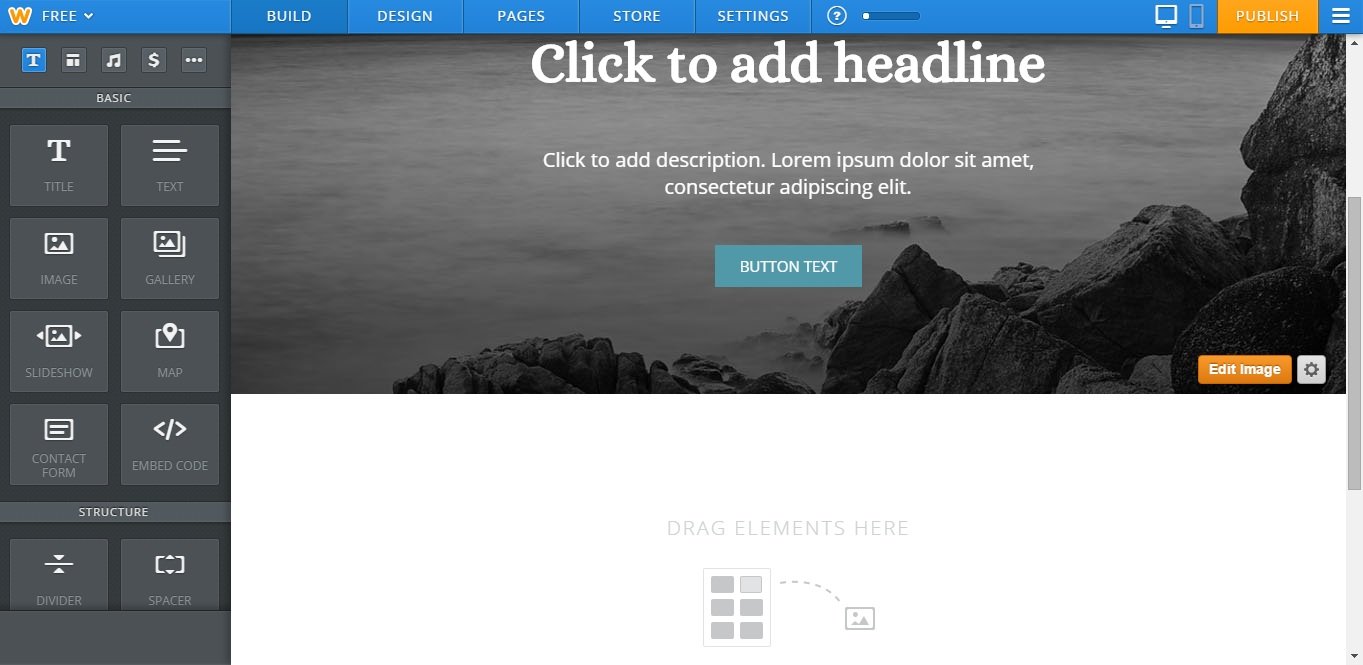 Weebly is one of the most well-known and widely used website builder's available today. Founded in 2006, Weebly hosts more than 20 Million websites and more than 140 Million unique visitors. On signing up, you are automatically rolled into the free plan. There is, however, an option to upgrade to other plans such as Starter, Pro and Business which costs $3.29+, $6.63+ and $19.54+ respectively on per month basis for premium features. Some of which include Header slideshow, HD audio & video players, SSL security, Google advertising credit worth $100 and Shipping & Tax calculator.
Weebly provides you with the choice of the kind of website you have in mind with 3 options i.e. Site (business), Blog and Store. On choosing one of them, the next page includes a list of themes. Following which, you can select a subdomain like example.weebly.com, or you may purchase a brand new domain like www.yourdomainname.com, or if you have an existing domain purchased you can simply link it with weebly. Managing and customizing your website is extremely easy thanks to the Drag & Drop functionality. You can also build an Ecommerce store with all important features such as integrated shopping carts, inventory management and such. Weebly is undoubtedly a great place to begin with if you wish to start your own first website, for Free! Sign up for Weebly.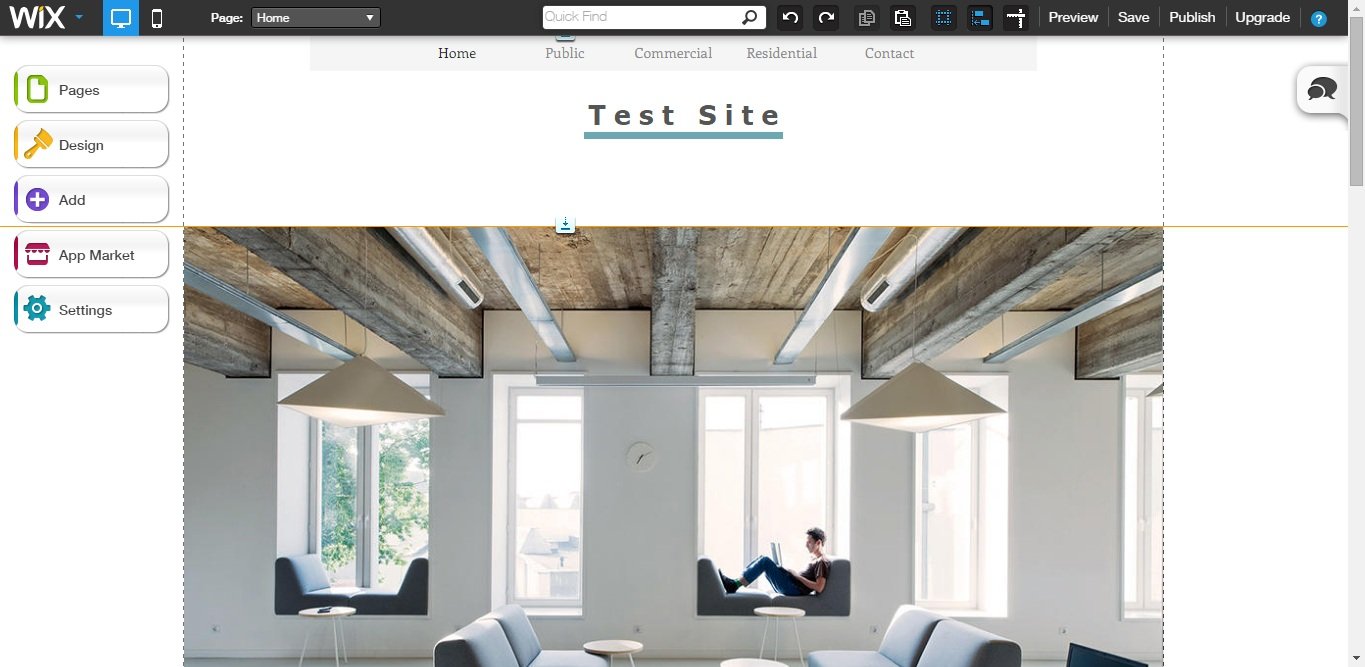 Headquartered in Tel Aviv, Israel, Wix was founded in 2006. Wix has successfully grown over the years with its offices also located in USA, Brazil, Lithuania and Ukraine. As of August 2014, Wix now serves over 51 million users across 190 countries and an average of 45,000 new users signing up every day.
Besides the Free plan, Wix's premium plans include Basic costing $4.08, Combo costing $8.25, Unlimited Entrepreneurs & Freelancers costing $6.21 and Ecommerce costing $8.08 all on per month basis. Please note that at the time of writing the latter 2 plans showed as 50% off.
Wix offers feature's such as 100s of Designer-Made Templates for different types of websites. All templates also have an Optimized Mobile View feature so you never have to worry as to how your site appears on mobiles. An interesting feature is that Wix provides more than 1,000s of Freely available Images and an Image Editor. It is very important that you use only legally usable images on your website. Another important feature to note is that all templates are HTML5. If building an ecommerce website is you plan than Wix offers some great features there too. There is a Facebook Integration for Online Store, different payment methods like PayPal, WebMoney or Skrill. Wix takes No Commission from the products you sell from your website. They also provide business tools like Google Analytics, Traffic generation and Contact Manager among others. There are also over 140 Apps to choose from the Wix App Market. Sign up with Wix as your website builder.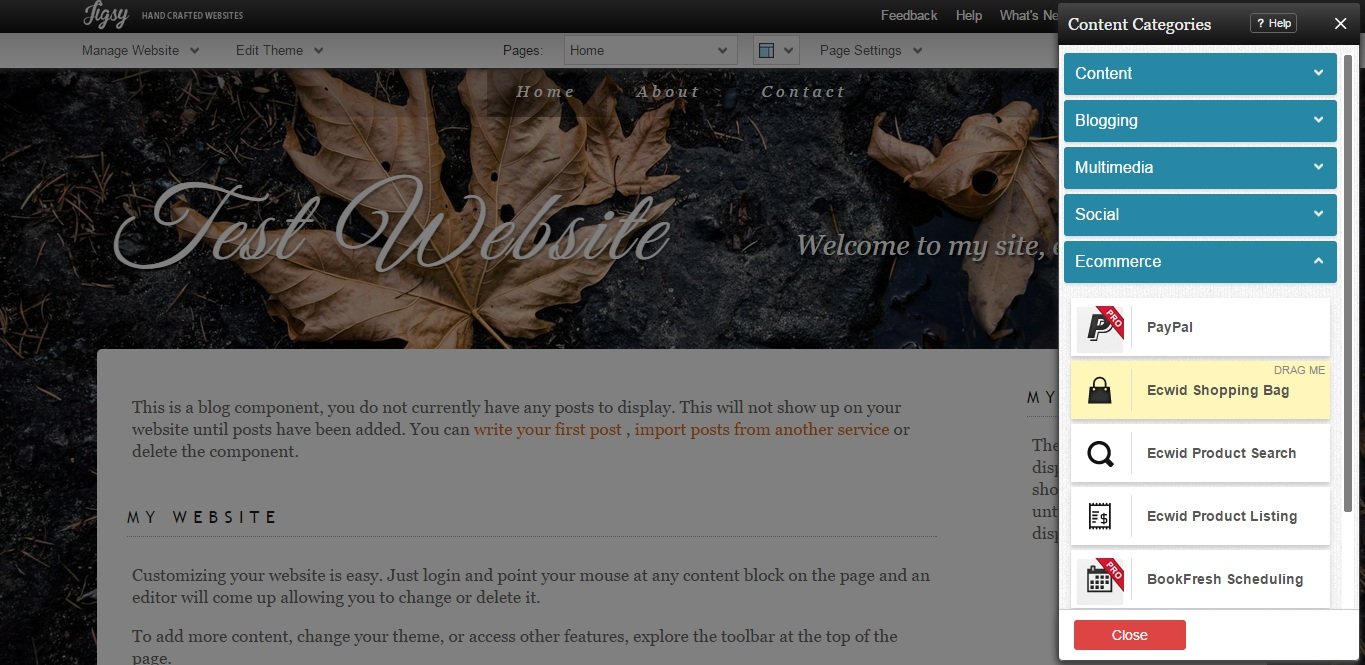 Jigsy is a Canadian based company offering Free website builder. For the Premium model, Jigsy has a plan called Unlimited Everything, the costing of which varies as per the payment options. For more information on costs, kindly check its pricing plans.
It features the typical Drag & Drop website editor. The templates offered are responsive; however, not all of them are so you may have to check for a small Mobile logo indicating whether or not it is responsive. You can however, download the theme and modify it as per your requirements making it your own custom theme which can be quite useful for web developers. Jigsy also provides lots of Free stock Photos and Fonts as well to make your site stand out with a unique typography. Typography is quite under-rated subject in website building. You will be surprised to find how different approach towards Fonts matters depending on the category and the type of website. For Ecommerce sites, Jigsy too like others provides Shopping carts and PayPal sales. The SEO and Real Time Statistics feature helps you maintain and improve your ranking in the dominant search engines. Sign up for Jigsy to start building your site.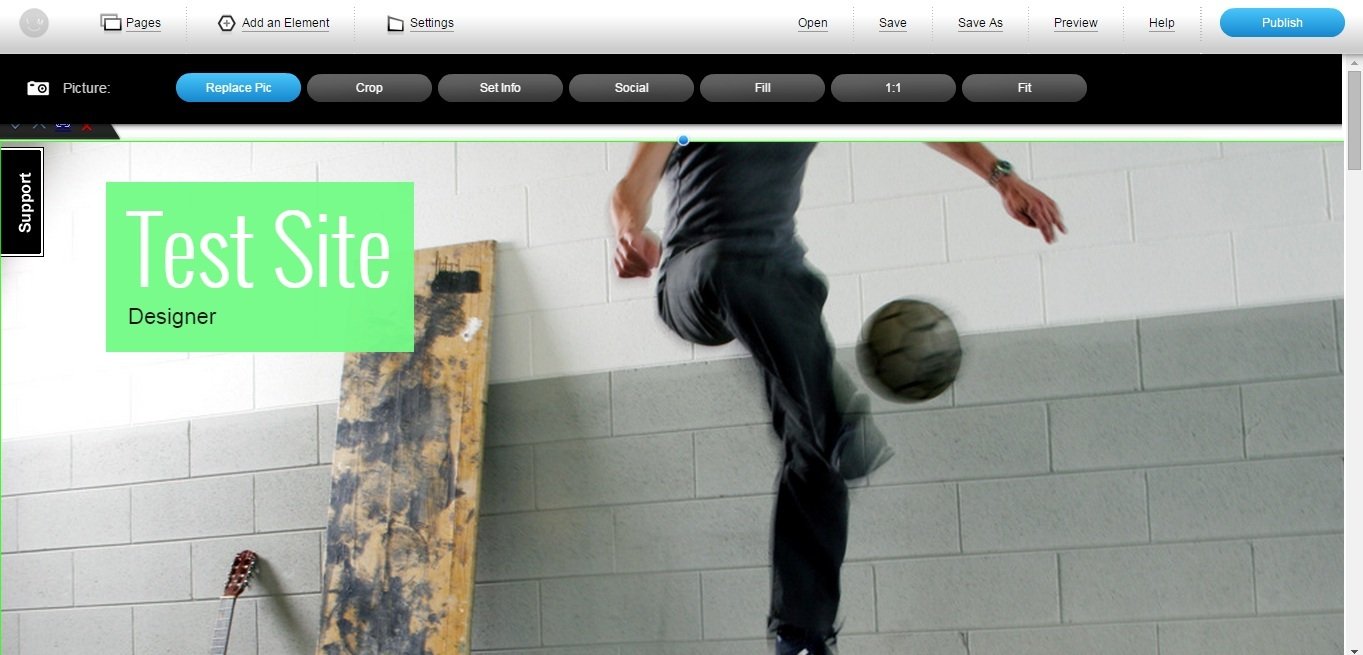 IM-Creator is another one of the amazing website builder's out there. It is clean, minimalistic and to the point with its easy WYSIWYG like Editor. The predefined templates available as per the industry sector as already so amazing that you will have to look no further than editing the texts and adding images here and there. Unlike other free website builders, the templates to choose from are unlimited irrespective if you are using a Free or a Premium Plan. The Free plan, however, gives only 50mb of hosting page, so a media heavy website may not work out for you. The Premium plans include Premium starting at $5.95, the cost of the Pro plan has not been disclosed, so you will have to contact them to get a quote as per your requirement. Sign up for IM-Creator.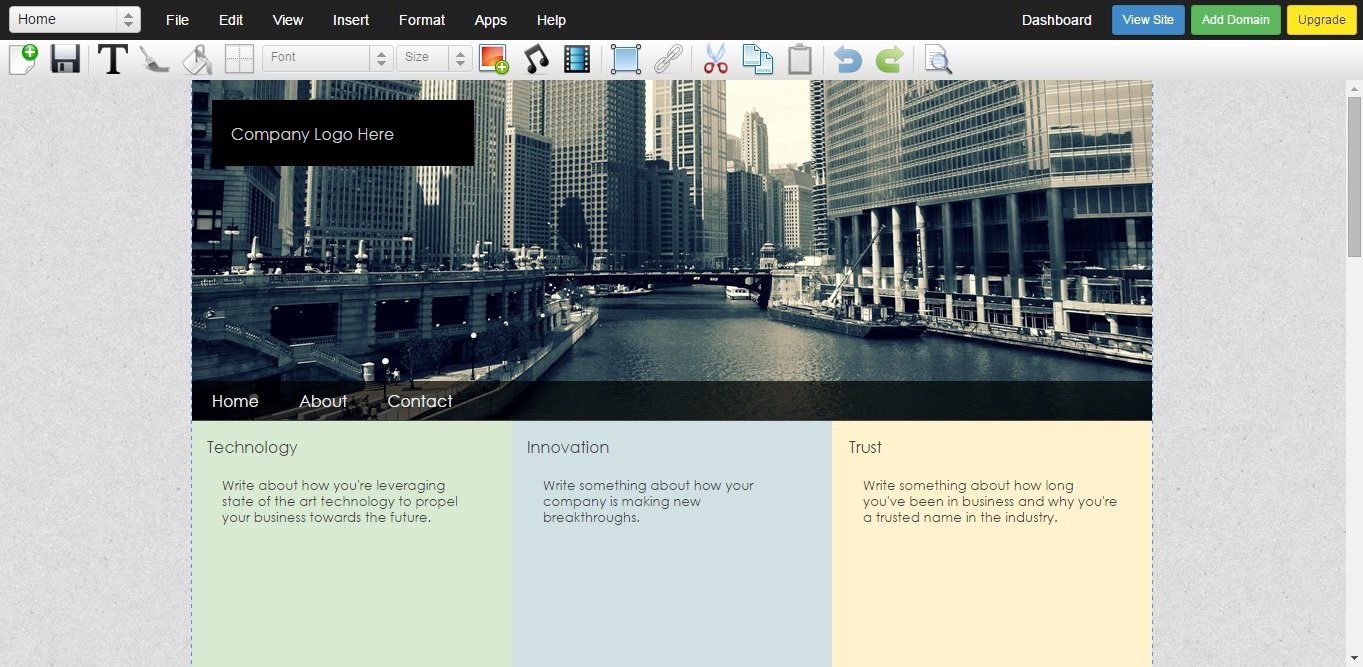 You can create free website with Webstarts with numerous templates that it offers. Simple editing of texts and images, and you are good to go live in a matter of few hours. The Free plan offers limited features like 5 pages and 10mb storage. The Premium service offers more features like a free custom domain, up to $395 advertising credits, Search engine submissions to start your SEO campaigns. Pro plan costs $9.78 and Pro Plus plan costs $14.32 on per month basis. Sign up with Webstarts website builder for free to get started.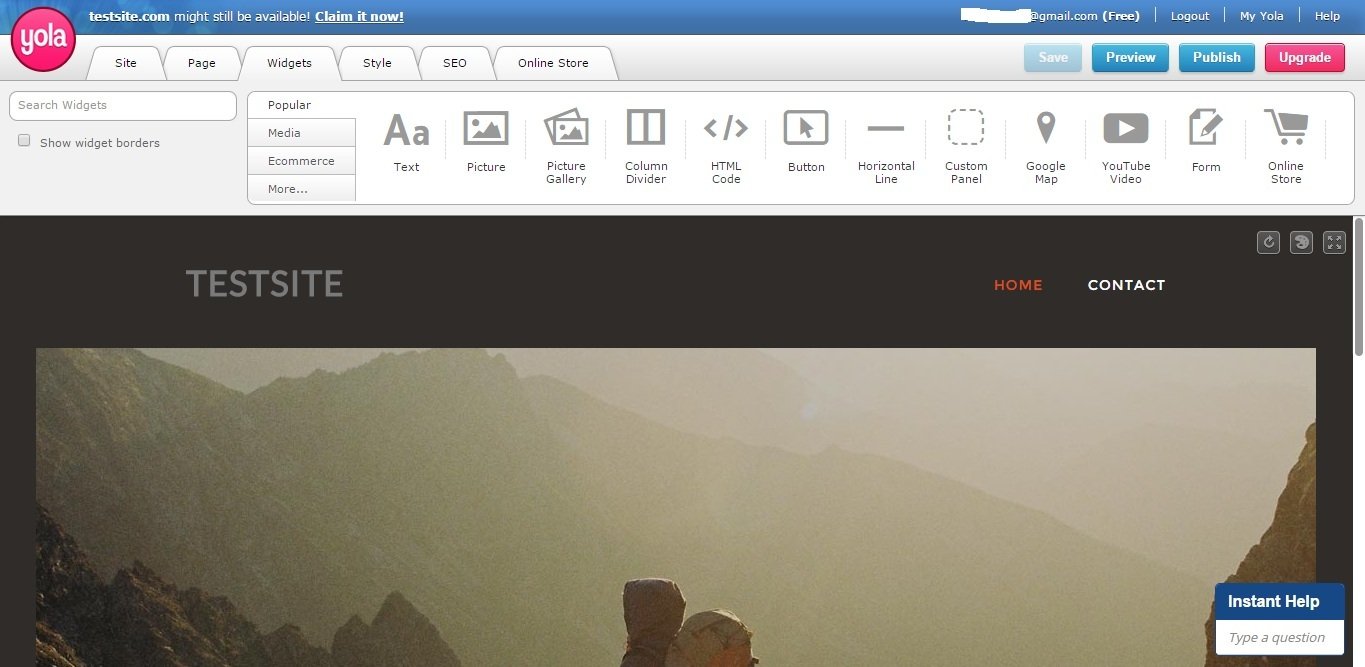 Yola, started back in 2007 is based in Cape Town, South Africa. Originally started as SynthaSite, the company was renamed as Yola in 2009. Yola offers site building services in Free and Premium plans. Its Free plan only provides up to 3 pages, 1GB of Storage and bandwidth each. Its Premium plans include Basic, Professional and Unlimited priced at $4.17/month, $8.33/month and $16.66/month respectively if billed yearly and a little more if billed on monthly basis. All premium plans offers 1 Free .COM custom domain name. Some features from premium plans include unlimited Pages, Storage and Bandwidth, 3000 Images, Mobile optimization and site analysis tools among few. For extra $10 on top of the premium plans, Yola will provide Online Store with no more hidden or transaction fees. If you are a Small Business owner with not enough time to build a website, Yola has Yola Premier which will give you a professionally designed website as per your needs and it starts at $499.95. Sign up with Yola and start building your site.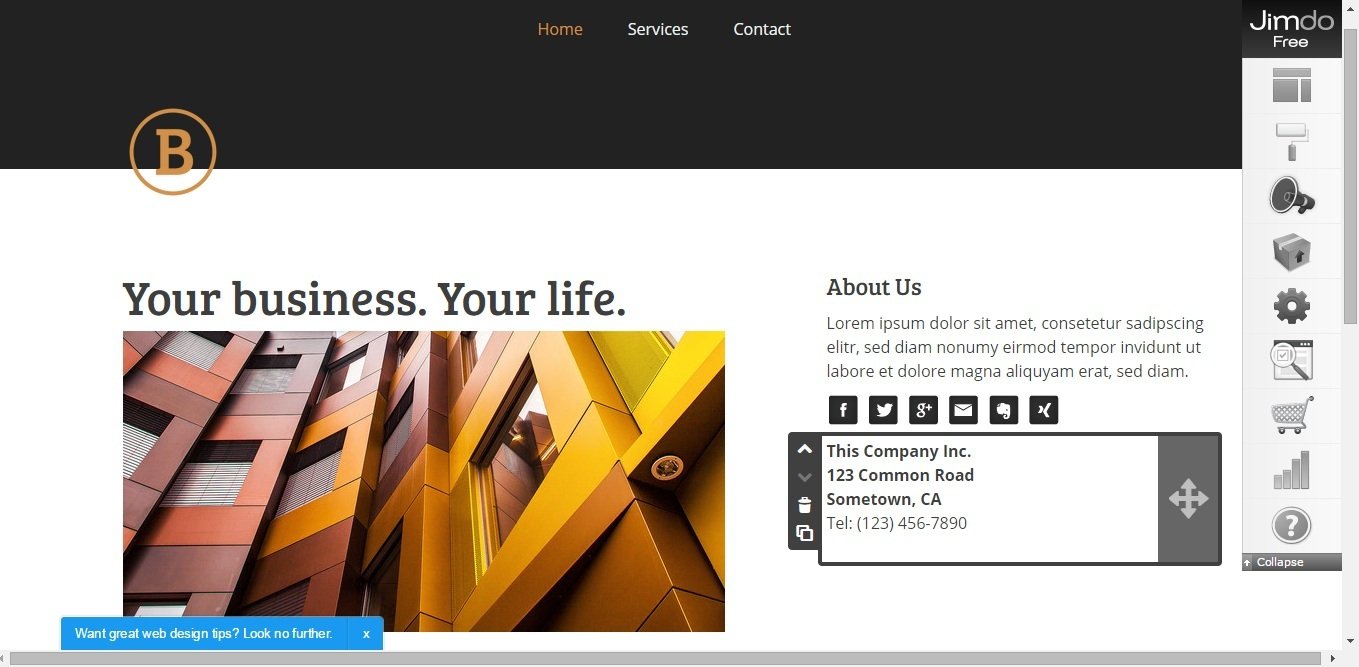 Jimdo, a German startup was founded in 2007. As of today, however, it has grown a base of an astounding 12 Million websites, is available in 9 languages. It also has offices located in San Francisco, Shanghai and Tokyo. Jimdo offers 3 plans, 1 Free and 2 Premium. The Free plan includes Jimdo subdomain, 500mb storage, SEO and support for listing 5 items if you plan an Ecommerce website along with PayPal services including credit cards. As for Premium plans, Pro plan costs $7.50 p/m and Business plan costs $15 p/m. Premium features include unlimited storage, store items for Ecommerce, website statistics, Free custom domains and so on. Another great thing about Jimdo is its WYSIWYG (What You See Is What You Get) editor, so you don't have to worry about how the website appears when customizing. Also, the settings option in Jimdo somewhat resembles the cPanel, and its clean and detailed. Jimdo should be an amazing experience for a newbie to get started. Sign up for Jimdo.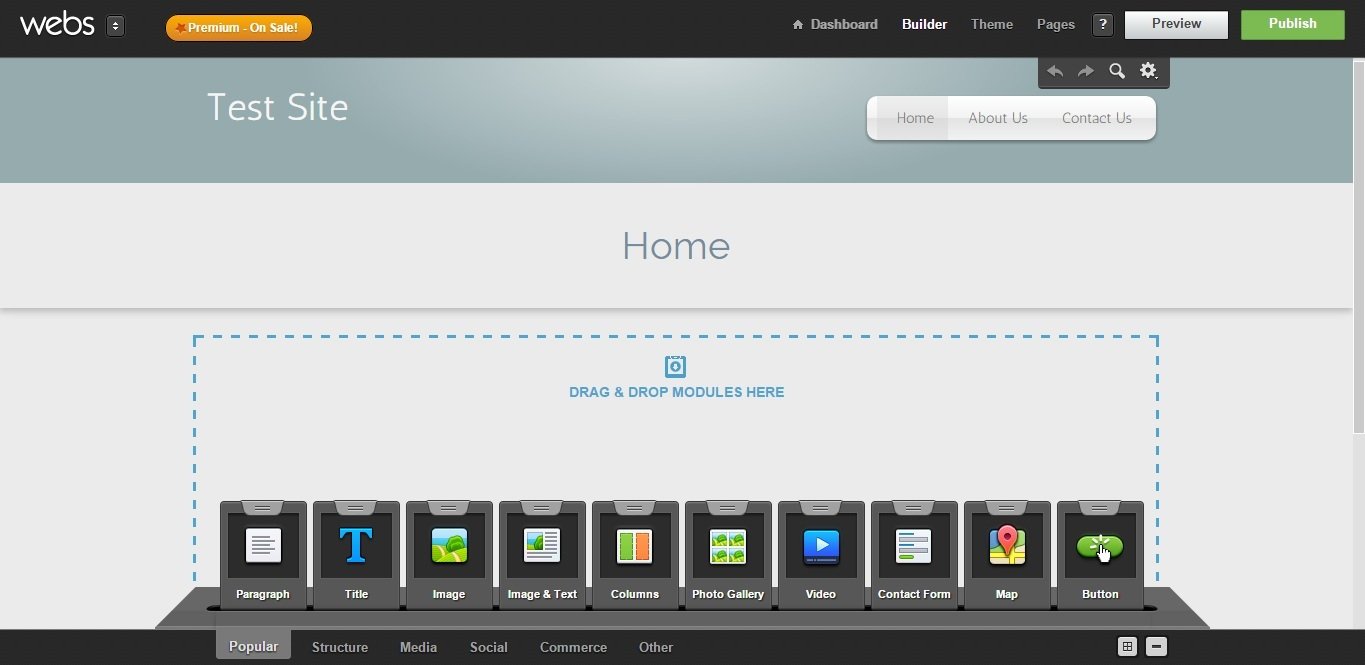 Webs came into existence right after the dot com bubble in 2001, by founders and brothers Haroon and Zeki Mokhtarzada in their last years at the University of Maryland, when they realized how difficult it is for any average person to make a quality website. Thanks to the tremendous growth in a decade, Webs was later acquired by Vistaprint in 2011. Vistaprint is a leading online provider of marketing products. During sign up, you can select either the free or the premium package post which the templates are accordingly displayed. The Free plan only offers up to 5 pages and email support. No mention about the storage space or bandwidth. Under the premium plans, there is Enhanced which costs $12.99 but available on discount for $8.99 at the time of writing, then there is Pro plan which costs $22.99 but available on discount for $11.99. We are not sure how long the sale lasts, so if you like Webs you would better grab it now. Premium features include Custom Domain Name, Unlimited Pages and storage, No Webs Branding, Mobile optimized, Site Statistics, $100 Google Ad Credit and much more. Sign up for Webs.
The list cannot obviously be complete without having WordPress for a post full of website builders. WordPress too offers a free service like many others. The free account comes with a lot of  restrictions of limited, which you would immediately notice is you are not a beginner in the industry. If will be difficult to get almost anything done (besides blogging) if you have some ideas about the layout.
However, if you have purchased you own domain name and hosting services, WordPress is the place to go to for setting up your site. It is infact the most widely used CMS (Content Management Systems) as of today. The options are endless no matter if you plan to have an e-commerce site or straight forward blogs based site. There are numerous templates and plugins, in-depth customization features which allows you to design your website exactly how you want it to be. Once again, the options of the free templates are limited albeit the ever growing list. The paid plans are as follows: Personal at $3.99 per month, Premium at  $10.75 per month and Busines at $32.42 per month. Please note that all these plans are billed annually. Sign up for WordPress
So those were the Free ones. If none of the above options suited or satisfied your requirements, you can also check out the ones listed below. They are completely premium services. If a quality website is what you are looking for, which may compliment your existing business or a new business and you have no qualms about paying a little more than usual. Perhaps one of these may fit within your budget. Always remember that your Customers will never compromise on the services that you provide, so neither should you.
It would not be wrong to call Homestead a pioneer in website building and hosting business. It was founded in 1996 and is probably one the oldest companies in this list. The Starter plan costs $5.99 per month, Business costs $20.99 per month and Business Plus costs $60.99 per month. They do have a 30 day Free Trial. The templates Homestead offers are complete and working websites designed by professionals for a specific business type. So a simple editing of text and images is all that will be required if you plan a standard minimalistic business website. As for Images, Homestead provides you with over 1.1 million high–quality photos to choose from, for free. Other features include a custom domain name, marketing suite, business and analytic tools. Homestead might be paid, but if you are willing to pay, it is the most complete and hassle free website builder out there. Sign up for Homestead.
Launched in 2004, SquareSpace was created in a dorm room at the University of Maryland. It has grown to a team on 385 employees. SquareSpace does Not have a Free plan. It only has 14 day Free trial period, post which you can select from 3 plans; Personal for $8 per month, Professional for $16 per month or Business for $24 per month. All 3 plans provide a Free custom domain, a Fully Integrated Ecommerce site with no transaction fees. Personal plan, as is evident from it cost, offers the most basic features but sufficient for a business website. Do check the Pricing Page for a detailed comparison of the 3 plans. Sign up for SquareSpace.
SnapPages also has trial run for only 15 days post which you will be required to select one of the premium plans which includes a Pro version for $8 per month and a Developer version for $15 per month. Unless you wish to set an Ecommerce website, SnapPages offers pretty much the same features as others in this list. If you wish to sign up for SnapPages, do have a look at their plans and select accordingly. Sign up for SnapPages.
We hope you were able to decide on one of the website builders from our list. If not, then don't worry, you will get there. Rushing in isn't a good idea. Either way, we hope you found the information you were looking for. If you find a service worth mentioning but which is not listed here, please feel free to suggest.
Note: Costs for all website builders are subject to change as the companies see fit without notifying. All the costs mentioned in the article were as they were at the time of writing. Kindly check the pricing plans for the respective websites again at the time of signing up or purchase.
Image Courtesy: All Images(Screenshots) belong to the author.
Feature Image: Svilen Milev / Wikimedia Commons