Cloud OS, i.e Cloud based Operating Systems are nothing but a set of applications and programs running on a system, much like your personal computer. Except that, the whole service relies on Internet, and the Applications available within the system (and the whole System itself), is not technically installed on your machine. Cloud OS is a very small part, or rather a branch, in the field of Cloud Computing.
Cloud OS is kind of a system which offers services on the go. It is not a full fledged operating system. It offers basic yet useful services like, office suite, music, videos, and numerous other services with enough storage space required to get the work done. Some of the Cloud OS's have been available since many years, and thanks to the technology advancements in recent years, it offers more mobility with your data, by installing its app on your smartphones and tablets.  And the best part is, it is Free.
Below are 11 best available Cloud OS's which you may want to give a try: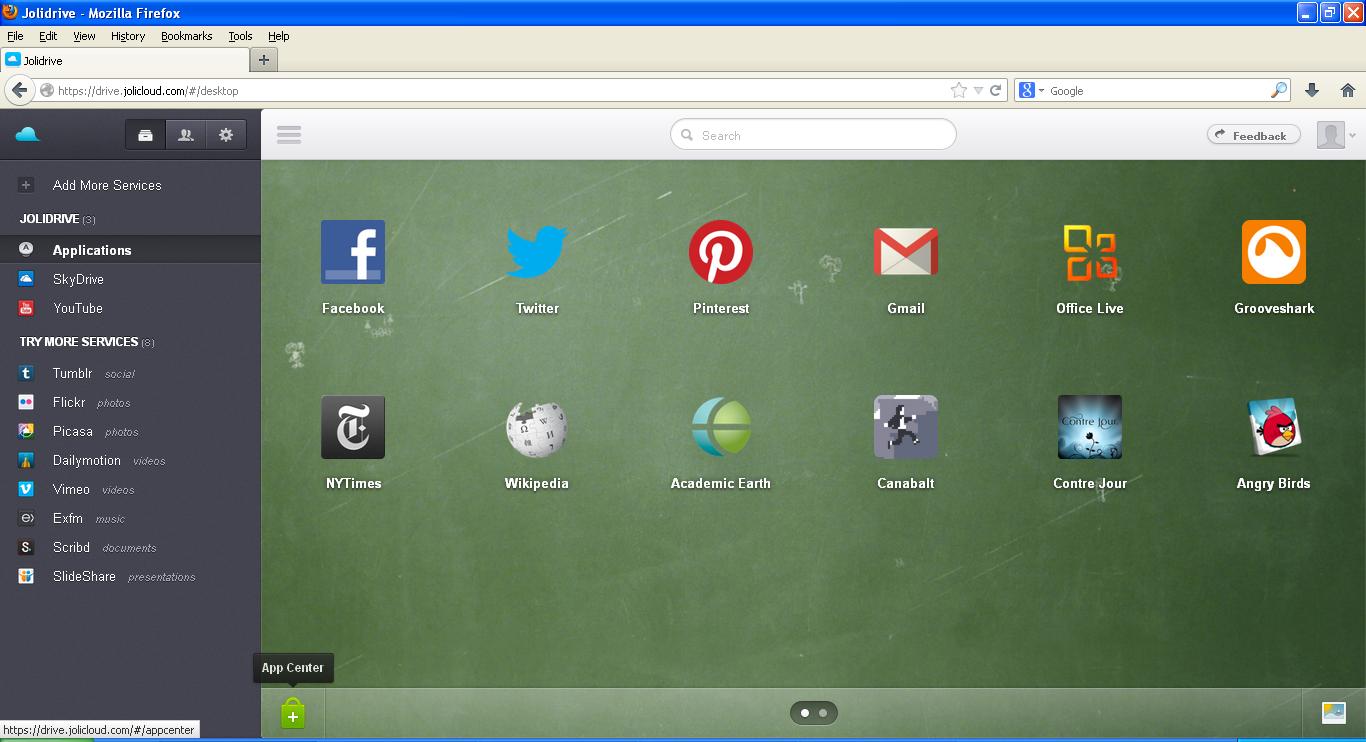 JoliCloud is one of the few Cloud OS 's in this list which also allows you to install the OS on your computer, which means you can use it offline as well. JoliCloud's source code too is available on GitHub. JoliCloud claims that at present it powers 2 million devices. It has a list of more than 1,500 applications to choose from, which updates automatically. If you don't wish to create JoliCloud account, you can simply sign on with Google or Facebook ID. JoliCloud's app is also available for iOS and Android. It goes without saying that it also offers services like SkyDrive, Google Drive, Dropbox besides others.
iSpaces cloud computer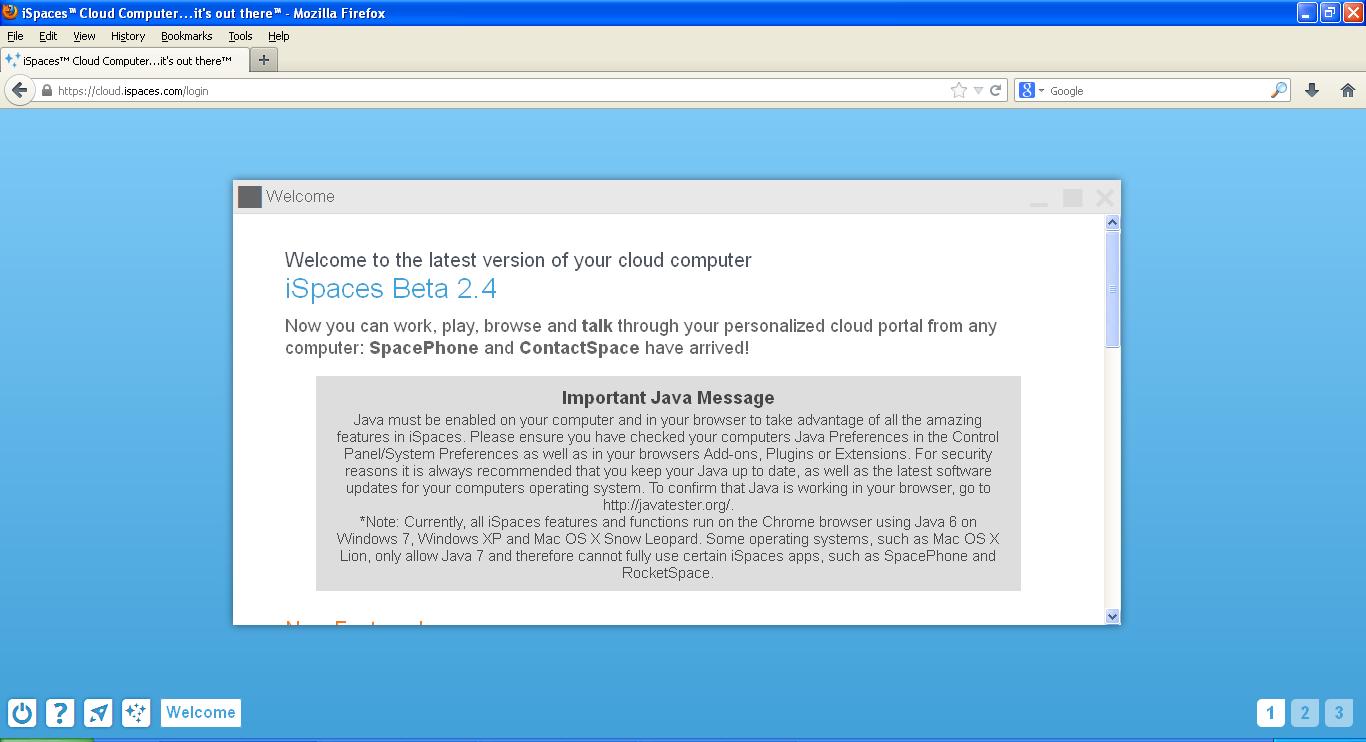 Update: Although it was previosly available,  unfortunately, iSpaces appears to have been shut down. In case we hear about them restarting their service or an alternative available by them, we will enlist it.
iSpace Cloud OS offers a seamless Cloud Storage solution. If offers 1GB of Storage space, besides the storage offered by services like SkyDrive, Google Drive, Dropbox, etc., and all your data is stored in secure servers. iSpace is available on Windows, Mac and Linux and runs on Chrome, Internet Explorer, Safari, Firefox and Opera. iSpace also offers Zoho's online suits for document creation. iSpace's unique feature would be its Free Calling application, it allows you to Call or IM anyone or everyone. Another feature worth noting is Multiple Virtual Desktops, which allows you to keep your data organized in different environments. However, in order to use iSpace, it requires Java to be enabled. To know more about it, you can also watch iSpace's Video.

Photo Credit – WEB OS?SilveOS? posted by (C)kyu3
Silve Cloud OS is perhaps the only OS in this list which makes you feel as if you are using Windows. It is complete with Windows like Aero User Interface, a task bar at the bottom with a Start button on the bottom left. Silve OS requires Silverlight to be installed in order to run. Currently, it only includes applications like File Explorer, Internet Browser, Video Player, Rich Text editor, an RSS reader, Twitter, Flickr, YouTube, IM and some games. A unique feature about Silve OS is that it also allows you to install external softwares, provided that they are developed in Silverlight and are available on Internet or your computer.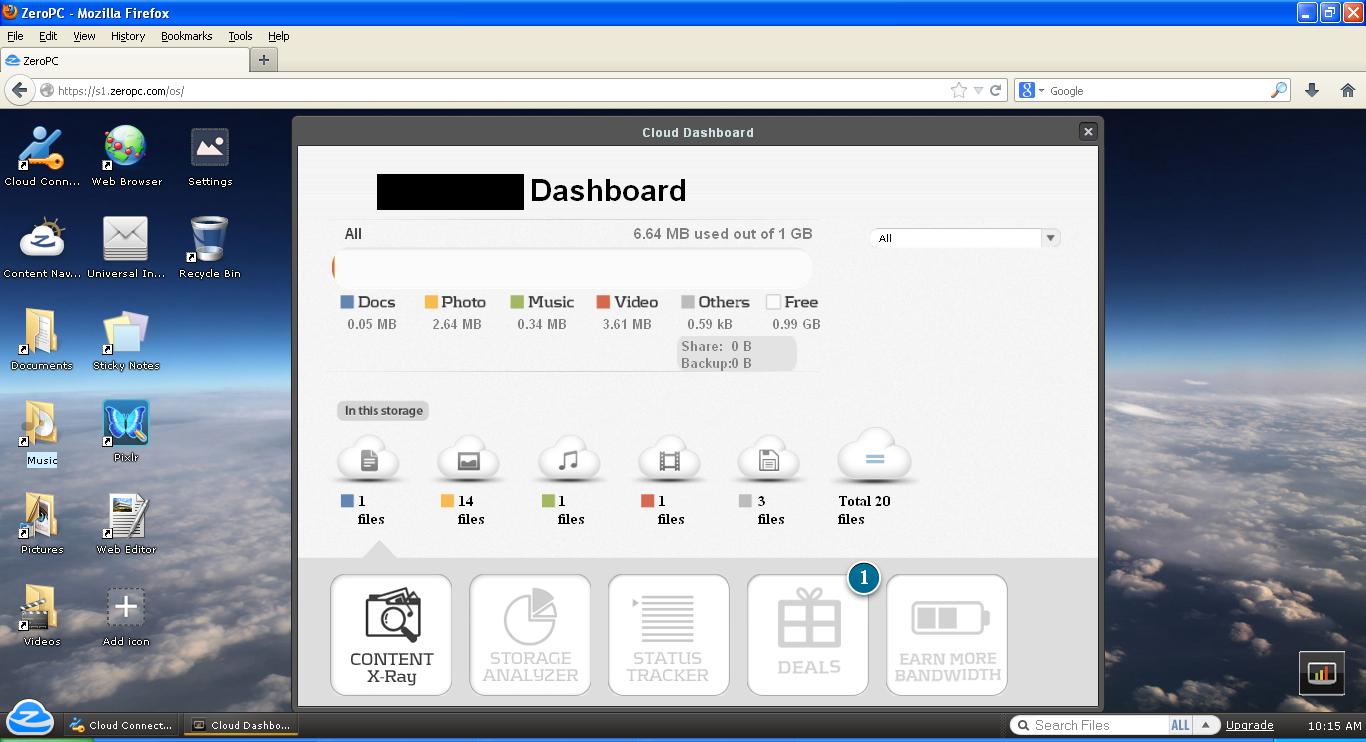 Zero PC is definitely one of the few Cloud OS's that you may like if you are looking for a service which not only has a good looking UI, but also has some great and useful applications available, and which offers services on-the-go. Zero PC is also available as an app for Apple iOS , Android, Amazon Appstore and has an extension for Chrome browser. It offers applications such as SkyDrive, 4Shared, Google Drive, SugerSync, Dropbox, Box, Facebook, Twitter, Flickr Instagram, Picasa and many more. However, it offers combined storage space of maximum 40GB. You may also check their Pricing Plans. Zero PC's unique feature would be Zero PC Photo Connect, which is a powerful photo management tool.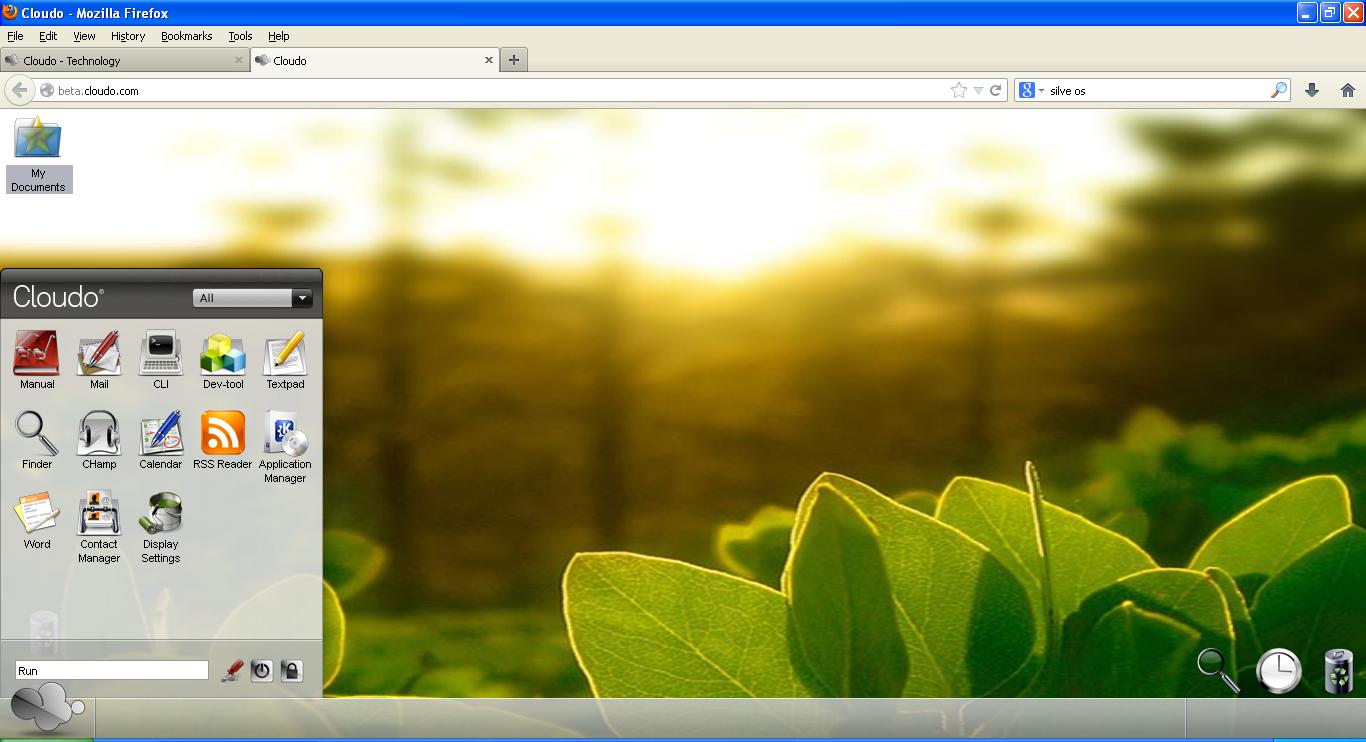 Update (11th July 2014): Cloudo website appears to be down for past few days. We will update this section again in next few days once we know the exact status.
Update (12th Sep 2016): Cloudo is now available again, though it is no more available as a free service. It's chargeable after a 15 days trial service. They now have a wide range of apps available to be connected (From Google Drive & On Drive to Salesforce & Zendesk). Please also note that Screenshot above may no more conform to the current offering.
Cloudo operating system is still in Beta mode. Cloudo was built using LAMP (Linux, Apache, MySQL & PHP) technology. Cloudo looks like a Linux distro. As of now, it offers a very basic set of applications like Calendar, Word processor, Mail, Music. It also has an RSS Reader and an app developer tool. Cloudo too has an Operating System like user interface. And it has an Application manager which also lets you install more apps or remove existing one.
Eye OS
Eye OS is more of a professional Cloud OS. Eye OS uses eyeOS Web Engine, a technology from Eye OS which transforms any Windows or Linux application into an HTML5 WebApp which can then be used on eyeOS Web Desktop. Eye OS offers eyeSync, which syncs all your data between your private Cloud and Computer irrespective of whether you are work online or offline. You can access eyeOS from PC, Smartphone or Tablets. However, there is no sign up option available which is why in order to use it, you need to get in touch with their team and await their response.
Update : Telefónica, a Spanish Telecom and Broadband provider, has now acquired Eye OS on 1st April 2014. Using Eye OS, Telefónica says they intend to offer an open-source desktop virtualisation service (DVS).
Update 2 : Eye OS website is no more accessble.
The Place A [Discontinued]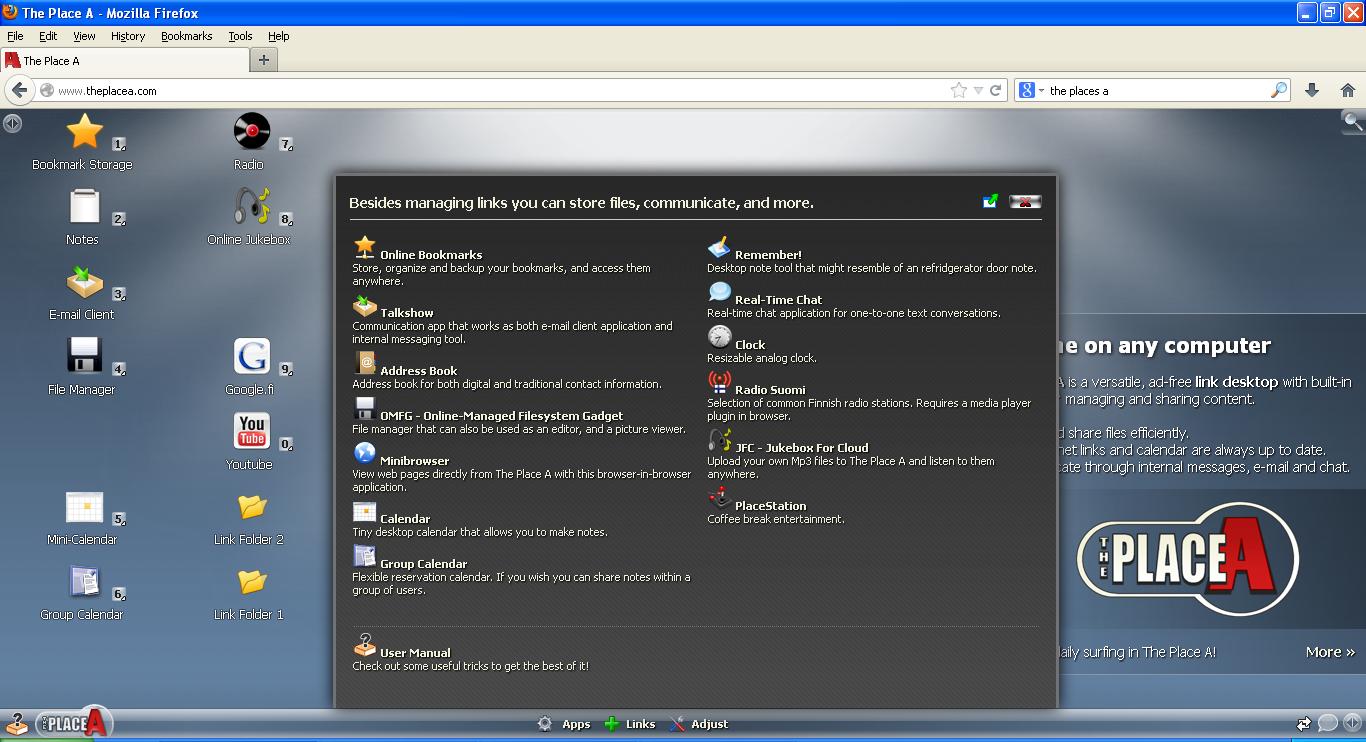 The Place A is one straight forward Cloud based operating system. It also looks like a linux distro. The site has a quick response rate. It has all the basic features and applications. It has an Auto Data Backup feature too. However, it only offers a storage space of 200mb as opposed to other Cloud OS's who offer atleast 1GB.
Corneli OS is another operating system besides JoliCloud which is available to download on your computer. It includes set of applications such as user manager, file manager, a Content Management System (CMS) and a database management system. It can be installed on LAMP servers and is available as free Open Source software under the GPL. It offers a Multi-user system experience and has a Virtual file system (VFS). You can also use Corneli OS (CIOS) to build other web applications and social networks. It is a kind of operating system that will appeal to IT professionals and developers.
Bottom Line: Of all the available options, JoliCloud looks like it has the best of both worlds, it has the ease of use, it is visually appealing, more than a thousand apps to choose from, and if you wish to tweak it a bit, its source code is available. Zero PC is another good choice to go with, especially if you are a photographer, with the photo management tool and apps like Instagram, Flickr, Picasa to name a few, it looks like a great place to store all the photos in one place. You can check other options too, and go with the one that appeals to you and more importantly suits your needs.
Few Cloud OS's have not been detailed here but you can check them too, such as Glide OS , XOS and Zimdesk.
Update (1st Jan 2015): The link for XOS website is down. We will update the status soon as it starts working.
Update (12th Sep 2016): The link for XOS is now fixed.
Update (12th Sep 2016): Zimdesk is also no more available as a cloud-based OS.
Image Courtesy – Uncredited Screenshots used are owned by Author. Please credit and link back if used. Thank you.
Feature Photo Credit – theaucitron/Flickr