Google has updated its dashboard on the progress report on its latest Android Kitkat version, released one month ago. A month after its release, Kitkat  is presently active on 1.1 percent of android devices.
Similar to its previous report, Google has conveniently excluded all android version prior to Froyo, i.e Eclair, Donut and Cupcake as they do not support the new Google Play Store app. Google collects the data based on the apps installed via play store app, which is visited by various handsets running android.
It also states that any version with less than 0.1 percent of  distribution has been excluded. Although all versions since Froyo appear in the chart, Honeycomb currently has the lowest distribution of only 0.1, so we can safely assume that it may not be visible in the next report by Google if Jelly Bean and Kitkat start gaining more share.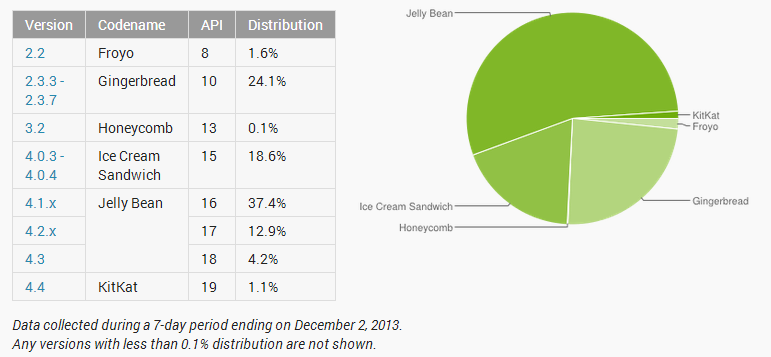 The 1.1 percent Android Kitkat has is understandable considering the number of devices it currently supports. It comes pre-installed with Nexus 5 but is said to support handful of devices from manufacturers which include Samsung, HTC, Sony in next few months. The newly released Moto X also runs Android Kitkat. And it will also come to Nexus 4, 7 and 10. Besides adding a lot of new features and functions, it also sports a new user interface. As for Jelly Bean, which released sometime in June last year, now holds a distribution of more than 50 percent of all Android device, 54.5 percent to be exact. Jelly Bean has steadily grown from approximately 45 percent share in October to its present 54 percent. Gingerbread still holds 24.1 percent, followed by Ice Cream sandwich at 18.6 percent, Froyo at 1.6 percent and finally Honeycomb at just 0.1 percent.
Some notable features in the new Android Kitkat include Contact Prioritization, Message Consolidation (consolidates Google Hangout chat messages, SMS and MMS), Quick Office Integration, Enhanced caller ID, Unlimited Home Screen panels and the voice based search feature OK Google.
Google list of fragmentation keeps getting worse with every new major Android version that it releases. Add to it the fact that these figures may not be as accurate as some of us might assume, since it only counts the devices which have installed and accessed Google Play Store app, although those number may not make a very huge difference in the chart. Google has high hopes on the Android Kitkat, so hopefully when the new Kitkat supporting handsets are released, along with the Android kitkat supporting available handsets which will start getting the update, the numbers will probably look better in the next report that Google posts.
Photo Credit: DragonLord878/Flickr